Congratulations on the New Year 2023!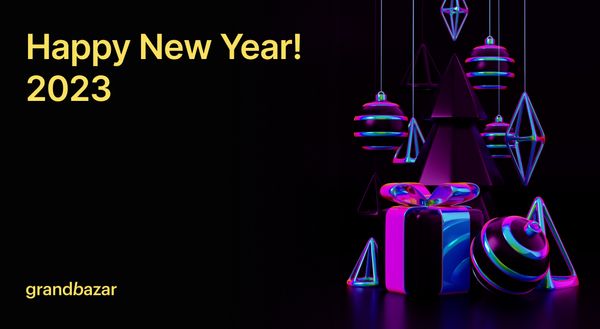 Dear Grandbazarians, on this New Year's Eve, let us wish you success and conquering new heights. May the new year bring you prosperity, health, and success! We wish you a cozy holiday meeting with family and friends!

This year was not easy for the cryptocurrency market, but we survived it together. Side by side we built WEB 3.0, developed our marketplace, and created the future with our own hands! We appreciate every person who believed in our project and joined our big family! Without such passionate crypto enthusiasts like you, nothing would have happened. Thank you for your contribution to the common cause!

In 2022, GrandBazar showed an unprecedented pace of development of the marketplace ecosystem. Let's take a closer look at the highlights and look at the statistics in numbers.

- During the year, 1,499 sales and 268 auctions were made on the market

- 278 new collections appeared

- 3261 users joined the ranks of the GrandBazar

- In total, 700K EVER and 24K processed transactions have passed through GB
- We are very proud of our GB Merchants collection; each user can view his NFT from all sides, thanks to the introduction of 3D item viewing technology
- Multiple Mint, now anyone can upload large collections with minimal effort